United States Old Maps
A collection of old and historical maps of the United States.
---
New Netherland, by Nicolaas Visscher II, ~1684.
---
Recens edita totius Novi Belgii in America Septentrionali siti, 1730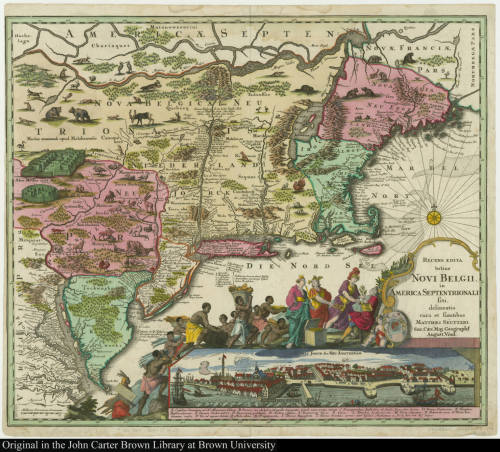 ---
British and French dominions in North America, John Mitchell, 1755 and 1761.
(Source)
---
A new and correct map of the United States of North America is the first map of the United States drawn and printed in the US by an American; it was printed in Connecticut by Abel Buell in March 1784, six months after the Treaty of Paris.
(Source)
---
Ottoman map of the US from the Cedid Atlas, 1803.
---
Map of the United States of America: with the contiguous British and Spanish possessions, 1816.
---
Political map of the United States, 1850.
---
Ranney's new map of the United States, 1854.
---
Popular vote at the 1880 US elections.
---
Map of the United States showing Routes of Principal Explorers from 1501 to 1844. Engraved and printed by the U.S. Geological Survey, 1907.
---
The Awakening, an illustration from 1915 in support of the women's suffrage movement, which quickly expanded from the newer Western states towards the east.
---
Relative sizes of the United States and the European powers, 1920.
---
If We Enter a World War -- and LOSE, Los Angeles Examiner, November 14 1937.
The United States, with the greatest resources on earth, would suffer the fate of Poland, Austria and Germany - our prized lands would be divided among conquerors.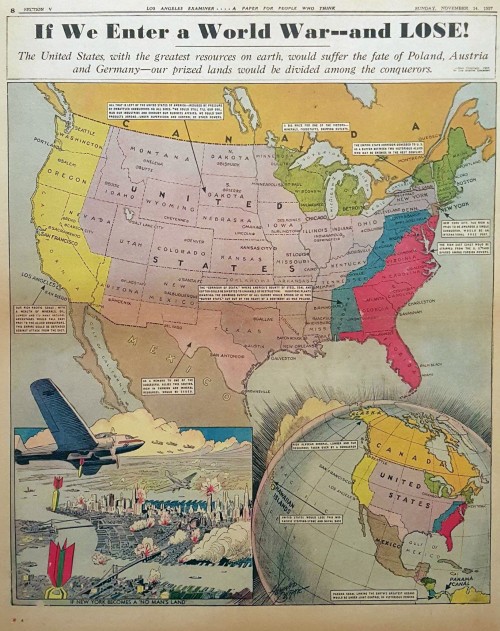 (Source)
---
War Sentiment by States from a Gallup poll in 1941.
(Source: St. Petersburg Times, May 16, 1941)
---
US centered world map, National Atlas, 1970.
(Source)